Liberty House Concerts
York Village, Maine
Thanks for a great 2018 season! We did 26 concerts between June 9 and Oct 24, and opened up our outdoor "Tanglewood" seating section. We'll start up again in the Spring, unless we have some unseasonably nice weather this winter and can sneak in a concert.
Make sure you're on the email list so we can invite you to future events.
7-9:30pm concert time unless specified. All concerts are different- wide variety of songs, instruments and energies...
| | |
| --- | --- |
| 2018 | "Uberlocal" Concert dates (maybe a couple more to come if the weather behaves) |
| Sun Aug 5 | "Blackberry Picking Party" jam session and feast! We provide the blackberries & vanilla ice cream, you pick the berries and some music! 4pm |
| Sat Aug 11 | Harvey & Joyce shared concert 7pm |
| Sun Sep 2 | The 1st "We Live Here Mini-Festival" concert, social, open stage, bonfire & potluck with special guests & neighbors 5:30-9pm |
| Mon Sep 10 | Special Concert- Billy Jackson 7pm- Scottish harp/whistle/pipe master/ legendary bandleader & composer |
| Tues Sep 11 | Harvey & Joyce 7pm- 3rd Annual 9/11 Special Concert |
| Fri Oct 5 | "Band of the Willing" special concert with Harvey, Joyce, Kent Allyn (keyboards, bass), Steve Roy (bass, mandolin, fiddle) & Rob Kneeland (drums) 7pm |
| Sat Oct 6 | Harvey & Joyce shared acoustic concert with a special cameo set from "Old-Time" Dave Talmage (guitar, fiddle, banjo, vocals..) 7pm |
| Fri Oct 19 | SOLD OUT There will be some standing room for latecomers "Hank & Dixie and the Knotty Pine Boys" special concert (First H & D concert in over a year!) Bar-B-Que Feast, Concert & Carriage House Fundraiser. Food @6pm/ music @7:15. ADVANCE RESERVATIONS STRONGLY URGED Limited seating & food... |
| Wed Oct 24 | Harvey & Joyce special trio concert with legendary drummer Dave Mattacks. He was a founding member of Fairport Convention, and has toured and recorded with Paul McCartney, Elton John, Cat Stevens, Mary Chapin Carpenter, Jethro Tull and countless others. This is a reprise of the Sept. 14 concert in Marblehead MA for those who missed it, or for those who want it again. Probably the final show of the year. Will feature some familiar & new material, with possible special guests. |
Catch some music, and enjoy the beaches, cool breezes, surfing, seafood and hospitality of this popular & historic resort town. There are usually no advance tickets or reservations, but we appreciate an email letting us know if you are coming. (mail to: info at woodpecker.com)
Harvey Reid & Joyce Andersen will usually be performing separately and together, and sometimes with the Hank & Dixie and the Knotty Pine Boys band, the Band of the Willing or another ensemble, or special guests now and then. We sometimes also have "theme" concerts. (Detailed schedule below.)
There is no admission charge. You can contribute $10, $15 or $20 here online, or donate in person at the concerts as you wish. We're just as glad to have you even if you aren't in a position to donate anything.
Download parking map PDF with directions. From I-95, take Exit 7 to York, head for town on 1-A (follow Hospital signs) veer left at statue, 5th house on the left. In the village proper.
We posted many videos (dozens) of performances from 2017 and 2018. There are more on Joyce's web site.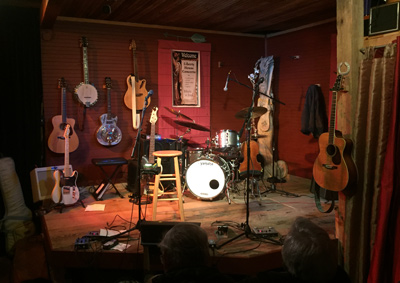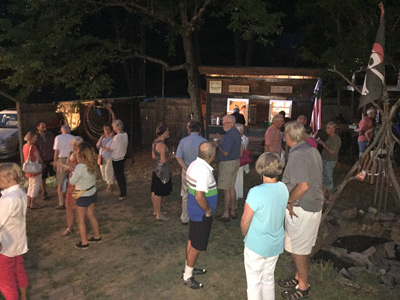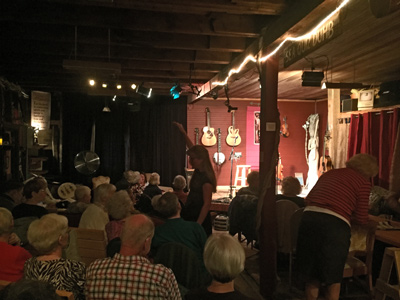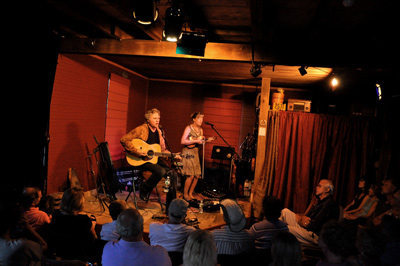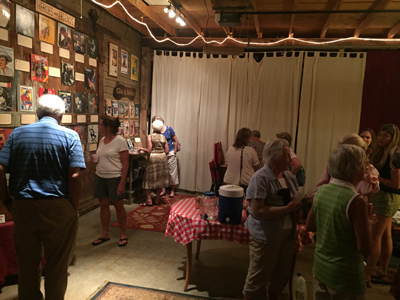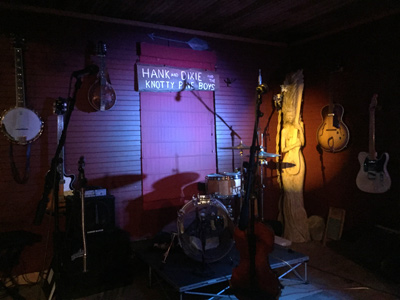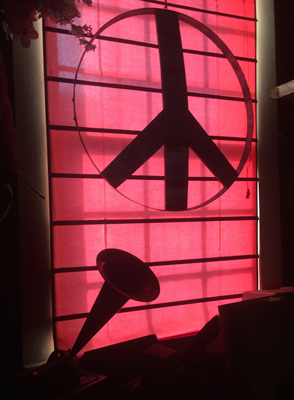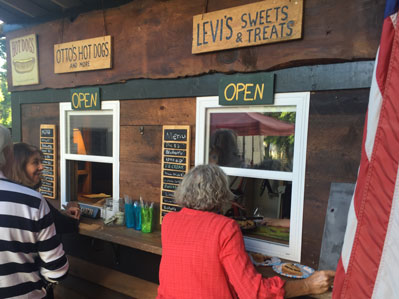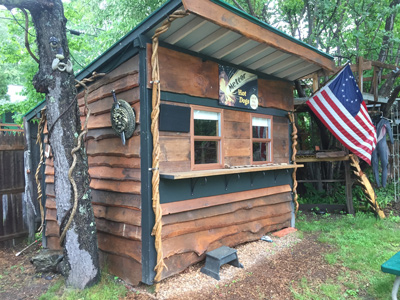 <– Our kids' popular snack shack is closed for the season...
OR IF YOU'D PREFER TO USE PAYPAL...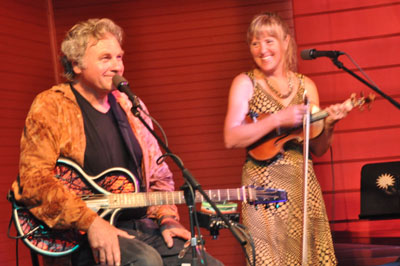 We'll keep you posted if you are on our local email list. We generally will not be posting this in either social or local media, and encourage you to do the same and not post pics or videos anywhere.
Bring children if you like, to listen or run around outside with ours...We love kids and want them to see and hear music.
We'll need to teach you where to park. We can fit about 35 cars on our property, and are adding some new spaces. Unlike the past summers, we will have some rainy-day events.