HARVEY REID Tech Rider (includes performances w/ JOYCE ANDERSEN)
On-Stage, Backstage & Hospitality Requirements & Requests
---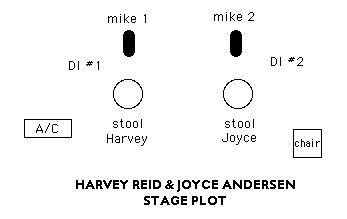 This shows stage plot for Harvey Reid solo or in duo with Joyce Andersen
TECHNICAL
* 1 boom mike stand for each performer, prefer tripod legs if possible, with Shure mike clip
* 1 low-z vocal mike (Shure SM-57 with windscreen preferred, or SM-58 if that is not possible) Artists often bring their own SM-57's
* A/C power within 6 feet of performers
* 1 additional channel with XLR low-z cable for each performer ( direct box may not be needed-- artist usually provides)
* total of 2 channels for each performer: 1 for vocal, 1 instrument
* Tasteful digital reverb 16 bit, on both instrument and voice. Rich chamber or small hall preferred.
* NO COMPRESSION OR STEREO PANNING, PLEASE
* 1 monitor speaker is enough, 2 is fine also, in front. As close as you can get to a house mix in the monitors please. May not need any if artist brings own monitor.
* Prefer reverb and EQ capacity in monitor.
* Spotlight is always nice, no green light, minimum yellow. Prefer mixture of white, red/pink and blue/purples
If Harvey is performing with Joyce Andersen, may need
* 1 additional stool
* 1 chair behind for fiddle case

OTHER
* 1- bar stool: padded if possible, non-swivel, no arms, typical widely-available (Wal-mart/K-Mart etc.) model 28-29" high, with 2 sets of rungs at approx 10 1/2" and 19". This is important, unless artist brings stool.
* 2- bottles of cold, NON-CARBONATED water, no ice, prefer Poland Spring.
* Absolute minimum 5 minutes set-up and 2-3 minutes tear-down time in festival situation, prefer a few more.
* Normally need 15-30 minutes for set-up, sound check in concert setting.
* 6 foot table (if possible) for recordings, mailing list etc.
* No rotating, floating or moving stages!
* No recording or video of performances without artist permission.
LODGING
* Queen or King bed if possible.
* Non-smoking room and household!
* Coffee available in AM please.
* Prefer no cats
* 1st floor preferred, preferably with easy loading access to parking lot with outside door, instead of through lobby to inside door
FOOD & DRINK
* strong hot coffee one hour before showtime please, prefer Starbucks black coffee or equivalent
* prefer to finish meal 4 hrs before showtime, no less than 3, so food before show may not be needed. Information of where to find establishment serving food after show is appreciated.
* meat sandwiches are always fine, with no onion. Bread and salad are always welcome, dessert not needed.
* 1 or 2 Corona or Heineken bottled beers after show is always nice but not required. Other bottled import or micro-brew such as Amstel, Beck's, Bass are OK. (Non-dark, non-light...)