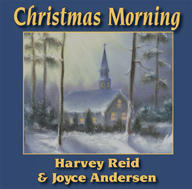 "Christmas Morning"
the Holiday collaboration
by HARVEY REID & JOYCE ANDERSEN
Acoustic string wizard Harvey Reid's classic Christmas recording "The Heart of the Minstrel on Christmas Day" has been an enduringly popular acoustic Holiday recording since it first appeared in 1984. Harvey's solo guitar and autoharp arrangements have won him fans worldwide, and the long wait for the sequel is finally over.
Harvey began performing and recording with fiddler/singer/songwriter Joyce Andersen in 2000, and in addition to pursuing their solo careers they have done a great deal of touring and released two highly-acclaimed collaboration CD's.

After a busy season of Christmas concerts in 2004, they got up on Christmas morning and spent all day and much of the Holidays recording this lovely CD while the snows whirled around their old Victorian house in Maine.The result is one of the finest folk music Christmas recordings. It is energetic and uplifting without being campy or pushy, serious without being somber, and lovely without being too sugary. The thoughtful songs, impeccable instrumental playing, and the underlying poignancy weld this body of songs and instrumentals together into a cohesive and enduring statement.

The 10 songs and 8 instrumentals are mostly Christmas classics, but they have dug up some unknown gems and written a few of their own, and their razor-sharp harmonies and brilliant instrumental work shine throughout. Andersen's fiddle weaves around Reid's masterful fingerstyle and flatpicked guitar work, and his amazing autoharp playing is well represented also. Reid also provides some brilliant cameos on mandocello, mandolin, and even lap steel.
Reid & Andersen deliver songs with the power of good folk singers, yet they play their instruments with the skill level of the best pickers, and like a plate of multi-colored Christmas cookies, "Christmas Morning" has something for everyone. Fans of folk, country, bluegrass, and even blues & classical music will find something to like.

On Willie Nelson's "Pretty Paper" and a rousing version of "I Saw Three Ships" Reid & Andersen intertwine flawlessly with the tightness and tension of an Appalachian brother duet. Andersen's amazing voice is front & center on the playful bluesy "Merry Christmas Baby" and the haunting "Song of the Magi", and Reid's solo guitar arrangement of "The First Noël" is spectacular. Reid's thoughtful renderings of Stan Rogers "First Christmas Away From Home" and Jean Ritchie's "Winter Grace" balance nicely with the more spirited numbers like "Joy to the World" and "We Three Kings." The instrumental tracks are an exquisite blend of the plucked and the bowed strings, and have a fullness and a completeness that seems larger than just two people.
It's hard to imagine a better way to capture the spark of this music "in the Holiday spirit" than to actually record on Christmas day, and Reid & Andersen perfectly combine the joy and the more reflective side of the Holidays. As always, the music is a purists' dream– played live in the studio, with no studio production or commercialism to taint this exquisite and pristine music.
---
1- I Saw Three Ships (Trad.)
2- Angels We Have Heard On High (Trad.)
3- Christ Was Born In Bethlehem (Trad.)
4- We Three Kings (Trad.)
5- Pretty Paper (W. Nelson)
6- Song Of The Magi (A. Mitchell)
7- Joy To The World (Trad.)
8- Beautiful Star Of Bethlehem (Trad.)
9- Little Town Of Bethlehem (Trad.)
10- Merry Christmas Baby (C. Brown)
11- How Can I Keep From Singing (Trad.)
12- The First Noel (Trad.)
13- First Christmas Away From Home (S. Rogers)
14- Not Grieve The Dying Light (H. Reid)
15- Candlelight Carol (H. Reid)
16- Adeste Fidelis (Trad.)
17- Winter Grace (J. Ritchie)
18- Away In A Manger (Trad.)
Order "Christmas Morning " now
Available in CD or digital download (

) For more information on ordering click here.
---